Roll over image to zoom in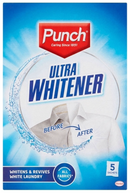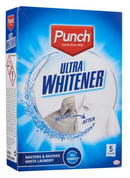 Description
Punch Ultra Whitener fights the greying of whites and prolongs the life of your whites.
Laundry detergents alone cannot maintain that as new brilliance everyone wants for their whites. When your whites are looking dull and discoloured, only Punch® Ultra Whitener can restore their brilliant whiteness even at low temperatures. Simple, quick and convenient to use, giving you the whitest whites every wash. 

Each box of Punch Ultra Whitener contains 5 sachets of 30g each.
How to Use

Using Washing Machine 
P

lace the sachet into the back of the machine drum before adding your washing.

Add detergent as usual and wash as normal. 

Remove empty sachet at end of wash.

Suitable for all temperatures, even for short washes.
By Hand Wash
Add 1 sachet to 2 litres of water (max 40°) together with the clothes.

Soak for up to 6 hours, stirring from the time to time.

Rubber gloves should be worn for all hand use
People who liked this also bought this