Roll over image to zoom in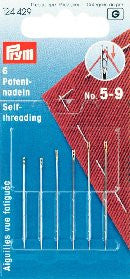 Description
These self-threading needles have a special open, split eye. They are relatively easy to thread, since you only need to slide the stretched thread through both eyes which then hold the thread. As a result, even people with visual impairments have no problem threading.
In addition to this special, burr-free eye, you will recognise the known quality parameters of a classic hand sewing needle, namely the even, non-porous, surface for easy gliding, the attuned spring stiffness, and the long and exceptionally slim, polished tip shape.
Prym offers the self-threading needles in assortment packs of 6 units each in sizes no. 5 to 9.
People who liked this also bought this