Roll over image to zoom in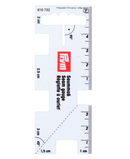 Description
This seam gauge from Prym is another practical aid in the range of flexible plastic hand gauges. It does not matter how thick the fabric is, or how wide the seam should be.
The graduated notches marked in various sizes from 1 cm to 3.5 cm make marking seams mere child's play. The seam gauge also has 45 and 90 degree angle markings.
This allows you to master even tricky seams and mitred corners without difficulty. Marking button-holes on shirts and blouses also becomes quite simple with the transparent plastic seam gauge.
For use directly on the sewing machine
Marking aid for seams, angles and button-holes
With 45° and 90° markings
Made from transparent plastic
People who liked this also bought this