Roll over image to zoom in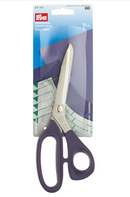 Description
Prym Professional Tailor's Shears sits comfortably in the hand, making sewing enjoyable!
From fine silk fabrics to thick wool, this tailor's shears cut every material with precision and without snagging. Moreover, the lower blade of the fabric scissors is positioned so that the textiles cannot slip during cutting.
The blade is manufactured in high quality stainless steel
The blades are fitted with optimum precision, so that when cutting, the scissor blades meet at only one point, which prevents crushing of the cloth. Ergonomically-designed soft grip for the textile scissors for safe, convenient work.
People who liked this also bought this