Roll over image to zoom in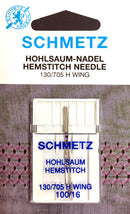 Description
Schmetz 130/705 H-Wing Wing Needle 100/16
Give simple blouses a special effect along the buttonhole placket.
Stitch particularly accented seams with 40 Wt. viscose (rayon) or multi-color threads.
Create embroidery motifs on your embroidery machine.
Conjure up decorative effects when attaching lace.
Prevent seam puckering on soft/light fabrics by using spray starch or a non-permanent stabilizer such as tear-off embroidery backing or water-soluble or heat-sensitive embroidery film.
Point shape
Slightly rounded point merging into particular shape
Special features
Wing-like needle blade
People who liked this also bought this